Business Times Essex feature
Essex Business Times – Looking back to look forward
Since January 2023 the North Essex Economic Board (NEEB) has been working on a new strategy due to launch this summer. In preparation for the new strategy, which is sure to continue the outstanding economic support for the North Essex area, the board has reflected on the journey thus far.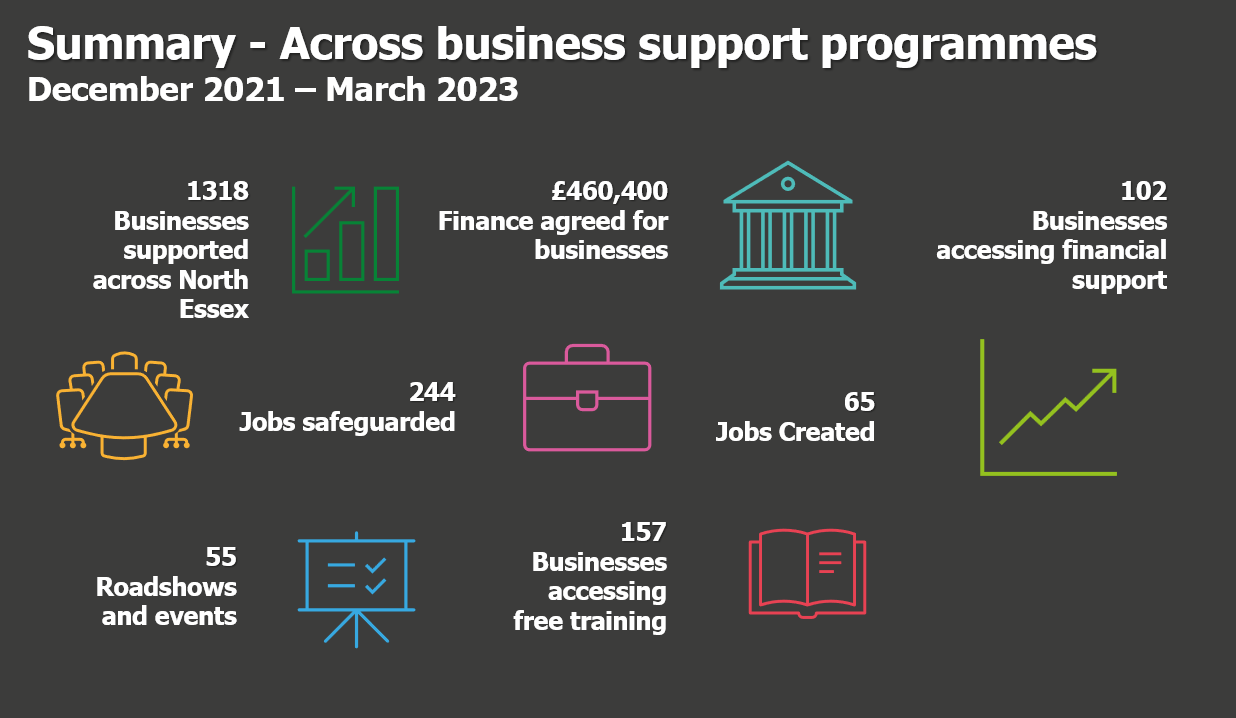 A partnership of seven local authorities – Chelmsford and Colchester city councils, Braintree, Maldon, Tendring and Uttlesford district councils, and Essex County Council – NEEB has worked to provide innovative economic support and drive growth.
Since late 2020 NEEB has been delivering a programme to drive economic recovery from Covid-19. While each local council partner administered its own individual grant schemes, it was recognised that businesses operate beyond local authority boundaries, and therefore a joined-up approach was required to promote recovery, reduce duplication and achieve economies of scale; allowing recovery funding to go further in the business community.
The over-arching themes were business support, skills and employment, and longer-term growth – designed to address issues around navigating financial support and advice available to businesses; supporting those on furlough or who faced unemployment; and capitalising on the opportunities the pandemic gave to adapt business models for future sustainable growth. The total programme budget was £1.6 million – provided by an innovative pooling of Covid-related Additional Restrictions Grant money across the partnership thought to be unique in the country – which was deployed to serve a population of 835,400 residents and nearly 41,000 businesses.
The financial cost to NEEB of this business support has been almost £1.2 million; but with each partner recognising the return on investment for the local economy far exceeds that figure. Additional funding in the sum of £402k has been provided by the Shared Prosperity Fund (SPF)
The support has been adapted during the year to reflect the current situation around rising costs and inflation. For example, programmes on finance and debt management, and reducing carbon emissions (and therefore energy bills) are particularly relevant right now, and so NEEB worked with its suppliers in these areas to promote them and be agile with overall KPIs. Similarly, delivery of support has been altered in some areas following feedback from those taking part.
As well as output data from the business support, NEEB has also received feedback on how these schemes are helping small business owners; one example is Maldon-based eco clothing brand Koala Chess Art, who accessed NEEB-funded support through Colbea including digital skills. They described the help as "brilliant, some of the most straight-forward and practical business courses I have been on", and that it gave them "the tools to help improve the business, or know where to look for advice".
A strong existing relationship with local businesses – as well as developing new links with companies – has been vital to the success of this support. This has been achieved through member councils' own networks – including access to business databases to provide intelligence to develop leads – relationships held by our business support providers, and also close working with partners such as the Federation of Small Businesses who provided information to their members.
Helping residents into work has been another key theme of NEEB's interventions, recognising how this not only supports people into employment, but that upskilling the local population is of great importance to businesses looking to recruit and retain their workforce.
Skills support has been targeted to best help those who need it most by linking up with community centres, groups and existing infrastructure. More than 12,200 visitors with an Essex IP address attended virtual job fairs, over 1,900 unique user clicks were made on job pages, 35 residents completed basic IT training, 32 residents were provided with equipment and connectivity, while 30 residents completed Cloud Practitioner training.
The support for both residents and businesses within the Skills Programmes and Business Support areas are ongoing meaning NEEB will support even more people going forward, helping to grow a strong economy across North Essex.
The 2023-25 strategy will take from the successes and lessons learned between 2021-2023 and adapt to offer services and support targeted at district-wide development.
The soon to be launched NEEB Strategy will focus on economic inclusion and promoting North Essex as an economic destination for businesses and residents. A proactive, productive and progressive North Essex that advances its economic potential through inward and outward-facing partnerships, with all residents, businesses and visitors benefitting from the region's economic prosperity.